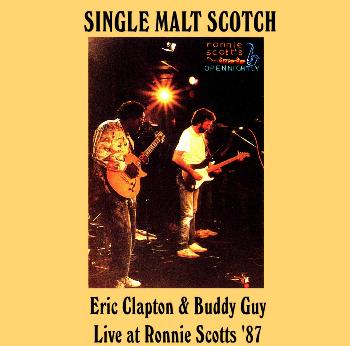 Eric Clapton and Buddy Guy - Single Malt Scotch
London, England - October 6, 1987 - Pecador - Aud 6

Disc 1:

Intro
Sweet Home Chicago
Play the Blues
Key to the Highway
Walking the Dog
Stormy Monday 1
Real Mother For Ya
Stormy Monday 2
Disc 2:

Jam
Worried Life Blues 1
Worried Life Blues 2
Hurt So Bad
Wanna Make Love to You
Comments: Sony D6 Cassette Master -> Unknown Mics -> DTR-80P DAT 16 bit @ 48kHz SV3700 DAT -> Mac G5 via Coax -> Peak 3.21 for track marks, 44.1 conversion -> SHN using Scott Brown's kick ass XAct. A nice upgrade from the bootleg release Ronnie Scott's '87, taken directly from the master. As the liner notes say "best enjoyed with headphones and a single malt scotch". Highly recommended.