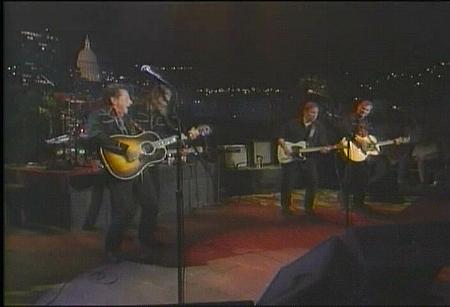 The Flatlanders - Austin City Limits
Austin, Texas - June 21, 2002 - DVD-R1
Right Where I Belong
I Thought the Wreck Was Over
Wavin' My Heart Goodbye
Julia
South Wind of Summer
Sittin' On Top of the World
Comments: The Flatlanders began in 1970, when West Texas natives Joe Ely, Butch Hancock and Jimmie Dale Gilmore returned to Lubbock. The three musicians began playing together, eventually joined by Steve Wesson, Tommy Hancock, Sylvester Rice and Tony Pearson. They recorded one album in 1972 that was originally released only on 8-track tape. Ten years later the album was released on vinyl and cassette in England, where it became a cult hit. In 1990, it was released for the first time on CD as More a Legend Than a Band.
In the late '90s, Ely was asked to write some songs for the soundtrack of Robert Redford's The Horse Whisperer. A series of events led to Hancock and Gilmore being asked to participate in the soundtrack project as well. The trio ended up writing three songs together with one appearing on the movie's soundtrack. With this project complete they began writing more songs as a group and released a new CD, Now Again.
This Austin City Limits performance paired the Flatlanders with Alison Krauss and Union Station. DVD-R1 direct from DigiSat.