Do You Feel (Like We Do?)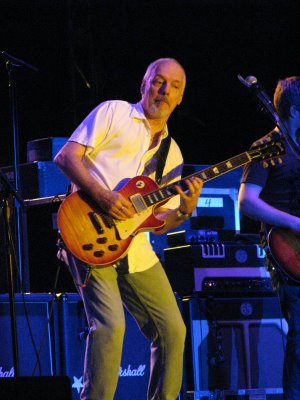 What's better than being right in front of the stage and seeing Peter Frampton on a beautiful summer night?
Seeing Peter Frampton on TWO beautiful summer nights!
On August 16 and 17, Frampton closed out his summer tour with two back-to-back shows at Williamsburg, Virginia's Busch Gardens. Having recently inducted the "Funk Brothers" into the songwriter's Hall of Fame, Frampton opened the set with "Signed, Sealed, Delivered" and "Shotgun / The Jerk", and then veered into both classics and some newer songs and
instrumentals
. One of the more interesting songs of the evening for me was Frampton's take on Chris Cornell's (Soundgarden)
"Black Hole Sun"
which he really made his own.
Always a tone hound, Frampton played a variety of guitars, including a Frampton signature issue Les Paul, a Goldtop, a '59 (60?) Reissue LP, and best of all, a sweet sounding cherry red ES-335. Peter's golden locks may have gone gray, but his fingers are fast as ever, and the tone still fat and sassy! One interesting change from years past is that "Show Me The Way" is played with a fat, Gibson sound rather than the crisp Fender-y sound of the past ... it works!
With many classic artists, the scariest seven words they can say are "here's a song from my new album" but Frampton never disappoints. The close on both nights was a sweet version of George Harrison's
"While My Guitar Gently Weeps"
.
Here's the setlist:
Shotgun / The Jerk
Signed, Sealed, Delivered
Lines On My Face
Show Me the Way
By Your Side
Float
Boot it Up
Black Hole Sun
Baby, I Love Your Way
(I'll Give You) Money
Do You Feel Like We Do
?
Off the Hook >
While My Guitar Gently Weeps
You can see my photos from the shows
here
.
Next week ... Park goes to Coney Island!
~G