Another Two-Fer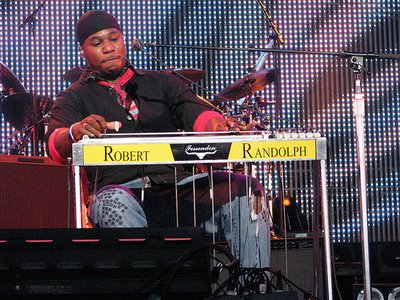 Talk about a two-fer / double header (even the headers come in twos!).
First was Robert Randolph and the Family Band on the "Music Builds" tour at the Virginia Beach Ampitheater. I was so excited to snap up 3rd row center tickets at the presale that I didn't notice that RRFB were on a bill with a bunch of other artists that ... I'd hate. Well, not hate, just be bored to tears by! Robert's set was a bit constrained by time and he did his best to get people up and out of their seats, but it was an uphill battle and I can't wait to see Robert again in a solo gig like I did
back in June
.
I thought Robert was the total high energy guy, and after a long train ride I was totally unprepared for how much I'd love Dana Fuchs and her great band. Totally blown away, and ladies and gentlemen, do not walk, RUN to grab tickets the next time this gal is in your neighborhood. As usual,
the Park Blog
contains all the salient details better than I can, so check it out!
~G