A Triple Shot
Obviously double headers and two-fers were busy, but not busy enough! So on the weekend of September 26-27, we set out not for a double, but a triple!
Friday night started off at the legendary Mexicali Blues in Teaneck, NJ, with one of my favorite artists - who, coincidentally, I've never seen live -
Popa Chubby
.
The Park Blog
has all the cool details, it was a fantastic night of red hot blues-rock.
Here are more pix from the show
and of course we have
more video as well
!
Saturday morning, we were off to
MSG
for a preseason game between the New Jersey Devils and the infamous New York Rangers. New York fans have unfairly gotten a bum rap for being awful audiences at music performances, and after seeing so many gigs in other venues, I have now realized, it's not New York fandom, it's that shows at the Garden are infested with asshole Rangers fans that have tainted the place. Don't believe me?
Ask Kevin Smith
.
Not being a sports guy, at first I thought this blanket charge about Rangers fans was a little overblown, but after experiencing it firsthand even as far out as Cape Cod, I constructed a handy little Venn Diagram as a visual aid: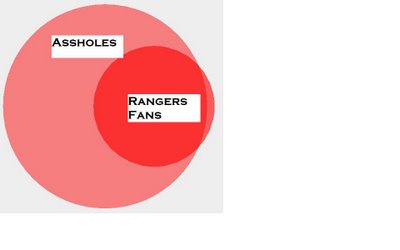 So with this graphic it is much easier to see how this works: not all assholes are Rangers fans, and not all Rangers fans are assholes. BUT, if you are a Rangers fan, it's statistically very likely that you are an asshole. Glad to help clear that up!
After a nice dinner, we headed to New York's legendary Carnegie Hall to see Italian mega-rock star Zucchero. I was concerned before the show that the crowd might be too staid in such a august place, and was reassured by friends that we would be surrounded by "crazy Italians" and boy did they deliver! It was an awesome show, and the crowd was up out of their seats dancing and having a great time for the majority of the evening.
There's not a bad seat in the house, and the famed acoustics are all they are supposed to be, although for some reason that doesn't come out well in the recording from my camera. I would have taken more video but
I had an irresistible urge to dance
, sorry!
I've got to admit, musically, this was a hard duo to beat! Some punter in the audience once asked Pete Townshend "how do you follow that?" to which he replied "play another song!" so ... onto the next gig!
~G