An Amazing Journey, Indeed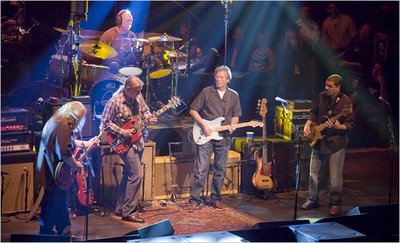 If it was the plot of a work of fiction ... no one would believe it.
In Miami, in 1970, Eric Clapton meets Duane Allman, who joins (D)eric and the Dominos in recording the timeless "Layla and Other Assorted Love Songs". Duane goes back on tour with the Allman Brothers, and meets his untimely fate an all-too-short time later. For whatever reason, somehow in the next 39 years, over the course of thousands of gigs, the paths of Eric Clapton and the Allman Brothers Band just go seperate ways.
Meanwhile - and here's the really unbelievable part of the story - in 1979 a nephew is born to Allman Brothers' Drummer Butch Trucks, and named "Derek" in honor of the album. By the time he was 9, Derek was playing professionally on stage, and at 11, he was touring with the Brothers and on his way to becoming a legend in his own right. Fast forward to 2006, and Derek joined his quasi-namesake, Eric, for a massive world tour that would stretch into the next year, and feature an ever-growing list of selections from the Dominos album.
Finally, in 2009, the musical wheel went full circle, as the Allman Brothers Band celebrated 40 years, and 20 years of an annual residency at New York's Beacon Theatre. Rumors flew about the possibility of a musical convergence, with speculation rampant. Miss Pai pulled out a calendar, and picked a date ... March 20, 2009. We would be there - would Eric?
The 19th came and from the venue, text messages started to fly ... it was true, EC was sitting in with the Allmans. All the other special guests had played just one night, for a song or two ... had we missed our chance by just one day?
The 20th arrived, and there we were. Sure enough, when we walked in, EC's Tweed Twin amplifier was on stage - but, as a friend of mine likes to say "hey ... they made more than one". Then, EC's guitar tech, Lee Dickson (who, inexplicably, isn't even mentioned in EC's book?) walked by. We knew we were in for a treat, but little did we know it would be one of the musical highlights of a lifetime!
This was truly one of those experiences that can be relayed, but not truly understood by those who were not there. It's become sort of trite and cliche to rehash the old lines about how music can create a shared experience, or bring people together, but there it was, something magical that just kept getting better.