Perfect Bookends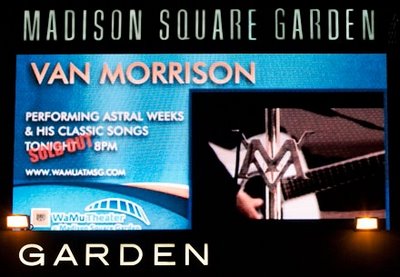 Serendipity - probably the prettiest word in the english language. Sometimes, things fall into place serendipitiously - like this weekend!
We began with Van Morrison's
Astral Weeks Live
at the WaMu Theater at Madison Square Garden. Everything was perfect - sound, lighting, and a crack band.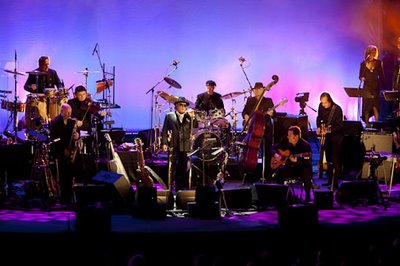 The evening began slowly, with an eclectic set of originals and covers, then progressing into "Astral Weeks". The show was clearly being filmed, to what end I do not know.
From the soul, jazz, and blues of Van Morrison, the next night was spent at the Mexicali Live in Teaneck, New Jersey, an in-depth, intense voyage deep into Texas Blues and Jazz with Chris Duarte. He's not only one of the nicest, most fan-friendly people in music, but his live shows are known for their free-form expression, changing set lists, and epic length.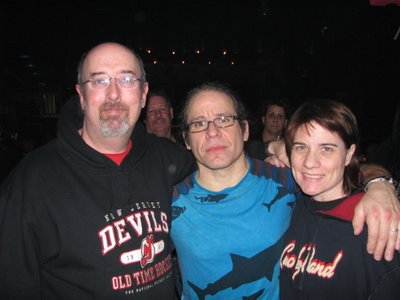 It was nice to fnally get to meet Chris after enjoying his music for so many years - especially considering that I had to go from Virginia, to New Jersey, to see someone from Austin who now lives in Atlanta. Talk about travel! Of course I hit the Merch table for some cool loot only available at shows, including the uber rare (and of course, uber-pricey) Japanese release of
Texas Sugar Strat Magik
. But after my
last experience
with asking someone to take our photo at the Mexicali, this time we took the photo FIRST ... then dug into the offerings!
From Manhattan, and then to New Jersey (it is the Garden State, ya know), it was a road trip to the Mellon Arena in Pittsburgh for the first show of the Fleetwood Mac tour.
It was a brutally cold night, but from the first notes, the band came out firing on all cylinders. There were some first night jitters on Stevie's side of the stage (and some weird jitters from the strange dude sitting behind us) but it was a great evening. Pittsburgh has always been a great rock-n-roll town, and if you ever wondered "why open a tour in Pittsburgh?", this is the reason why, because those folks were up and on their feet all night, and really into the music.
After all this (if you're keeping tabs, it was NY > NJ > PA) it was a trip back to Virginia, and into the teeth of the worst snowstorm of the year. Most of the DC and Northern Virginia area were pretty much shut down due to the weather, but the roads were passable. And the best part? We found a store open, and purchased the just-released-that-day live CD version of Van Morrison's
Astral Weeks Live
. Just as everything else on this perfect weekend just fell effortlessly into place, we put the CD on and it ended just as we arrived home in Virginia.
Serindipity ... and a perfect bookend!