Fluffin' It Up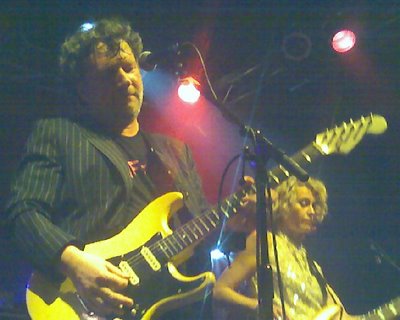 Here we are back at the Highline Ballroom, in the queue (though none of us is named "Mabel") waiting to gain entry up the winding staircase. As a group pushes their way up the stairs, we hear the query "can we
Squeeze
by?" and who passes us on the stairs but ex-Squeeze frontman Glenn Tilbrook, who we're here to see! Sort of like a groom seeing a bride before the wedding, it's a little disconcerting to see the artists before the show.
The opening act was a New York band called the Spring Standards, and spring, indeed, as they brought a musical fresh breeze with them. In a somewhat unique arrangement, there was no drummer, and instead each performer had 1/3 of the drum kit. But just like in a late night infomercial "but wait ... there's more!". The artists regularly switch and trade instruments, so everyone gets to play just about everything. As is our wont, we quickly navigated our way to the front and claimed a space leaning on the stage in front of the leftmost microphone stand, and were treated to a fun but too-short set of originals and classics. Glenn himself came out during the last song, "Little Bug", which quickly devolved into a spirited reworking of The Who's "My Generation":
I must admit I went into this show with a few reservations. I don't particularly like Squeeze. Well, no, that's sugar coating it. I find it to be the worst type of '70s and '80s Synth pop, which I am glad died as a musical force. So with my mental barrier set so low, I was unprepared for what a great band the Fluffers are, and what a musically dense experience this would be. Glenn Tilbrook has to be one of the single most at-ease and comfortable performers I have ever seen, and he's not only one heck of a guitar player but a totally engaging stage presence. The band careened through a set of classics and with many artists, the most dreaded thing you can hear is "this is from my new album", but in this case the new stuff is better than the old, especially the unforgettable 'Still'.
The thing I really can't figure out why anyone with the formidable guitar skills of someone like Glenn Tilbrook would downplay them, which he clearly did on the new album, "Pandemonium Ensues". It's decent, but over-produced. The live show is anything bu, and little did we know that the real pandemonium was on its way, as the Spring Standards repaid the favor with a visit to the stage for the encore, a cover of Lipps Incorporated's "Funkytown". There's no way to describe it in words, video will just have to do:
I was able to tell Glenn, later, that (1) that he and the Fluffers should release a live album / dvd and (2) I have the perfect name: "Pandemonium Ensued". He laughed heartily ... it remains to be seen if it will be seen !