On Stage With Fleetwood Mac (Surreal)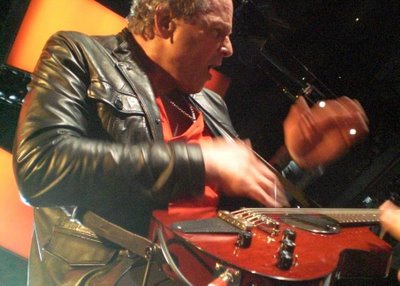 "How do you follow THAT? ... (pause) ... "Play another song!"
- Pete Townshend
So how do you follow Eric Clapton sitting in with the Allman Brothers?
Simple ... you go to the next gig and see what happens!
The next night found us out at the Meadowlands for our second-of-three Fleetwood Mac shows of the 2009 tour ... but with a difference. As a surprise, Miss Macpai had won a charity auction that included killer seats (more about that soon) and "VIP Access". We knew in advance that we'd get to meet Mick Fleetwood, which I was eagerly anticipating. What I didn't know, was that instead of the nondescript backstage room I envisioned, we were ushered up onto the waiting stage past the rack of Lindsey's guitars (marked "Death Row" !). After years of going to gigs and trying to get a glimpse of what equipment is being used on stage, it's an almost surreal experience to simply ... walk over and look.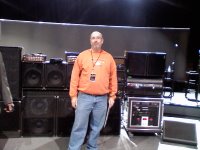 As many times as I've been in large venues, I've never been up on the stage, and it's amazing how unlike-you-think-it-is. For one thing ... the venue seems SMALL from up there. When the lights are up, you can make complete eye contact clear back to the soundboard - and beyond.
Mick was, as expected, hilarious and gracious and oh so verrrrrry English, in a nutty-old-uncle way. Of course once we were there I forgot to say what I had intended, namely "it's so cool to meet someone who was on Star Trek ... so how's the music thing working out as a second career?" so I instead concentrated on mortifying Miss Macpai with the suggestion to Mick that she didn't know much about the "real" (ie pre-1975) Fleetwood Mac. Mick caught my wink, but she didn't as she sputtered to defend herself, which he enjoyed as he was in on the joke.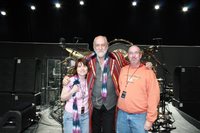 After an all-too-short time with one of music's great drummers, I wandered back to where we had set our coats .. on Lindsey's pedal board. Yes, again that word "surreal" pops up. You spend all this time wondering what effects people use in concert, and the next thing you know, you're tripping over them.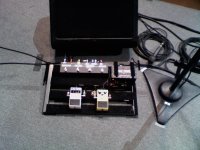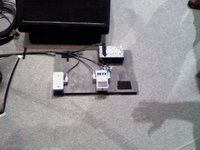 The highlight of the trip up to the stage was wholly unexpected. We were given very few admonitions, but the one thing that was stressed was "Don't touch Stevie's mic ... she freaks out!". But as we circled the mic, we looked down at the TelePrompter (I guess if Obama ever wants to sit in, he's covered), and there in front was a piece of tape that read "New Jersey" ...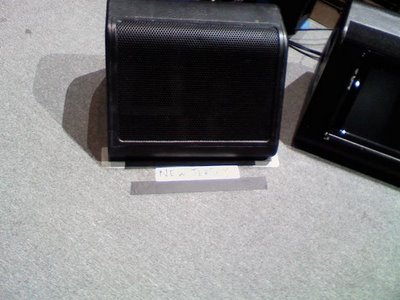 On the way back to our backstage waiting area, Macpai mimed singing along at Lindsey's mic: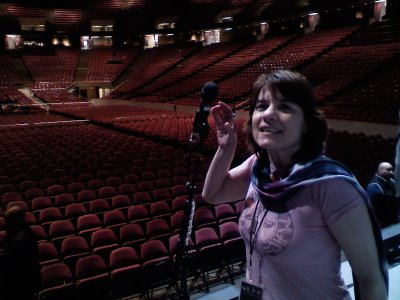 Then, not 30 minutes later, the view from the other side of the mic: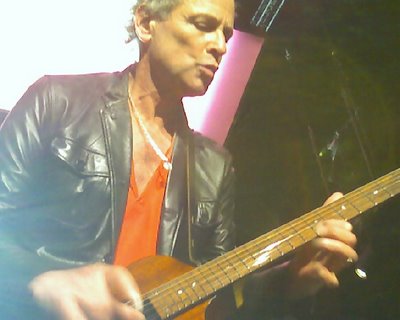 Miss Macpai gets all the credit for this one, too. Our "VIP" seating was very good, second row but on the left side of the arena. For us Lindsey-heads, that was the wrong side! Macpai asked if we were allowed to wander up to the stage when the lights came down (there was no barrier), and the security guard said that no, only people in the front row with special armbands were allowed up. A quick discussion with our VIP person later, we were equipped with day-glo armbands, and our seatmates were warned to GET OUT OF OUR WAY when the lights went down. So we literally spent the evening directly in front of the mic stand where we stashed our coats just a little while earlier.
I didn't realize it at the time, but I wasn't unchanged by my encounter with Mick Fleetwood. I've always possessed impressive Air Guitar skills, but I have never played drums, or even Air Drums. So imagine my surprise when I checked YouTube weeks after the show and there I was (backwards Yankees hat), Miss Macpai pogo-ing her best in front of me ... and there I am, at the feet of one of my favorite guitar players - yet, I'm not playing Air Guitar, but Air Drums in concert with Mick!
I didn't even know I had it in me ...
It's also surreal, indeed, not only to have this great experience but to have a friend send you a YouTube link and ask "... is that you?". Yes, I didn't even know the person next to us was shooting video (with a nice shot of Macpai's vintage rings!).
Surreeallll ... Oh, Well ....