A Fleet-ing Week-end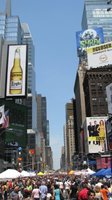 Memorial Day Weekend is also "Fleet Week" in New York. We started off at a street fair, surfing the tables of wares and food, and getting a decent case of sunburn as summer began in earnest!
From there I made my way to somewhere I've wanted to go for years, but never seemed to find the time ... the USS Intrepid Museum, recently renovated and returned to her new berth on the Hudson River at 46th Street. The wait was long (over an hour), but passing the time with the river breeze blowing on a pretty day wasn't exactly an unpleasant chore.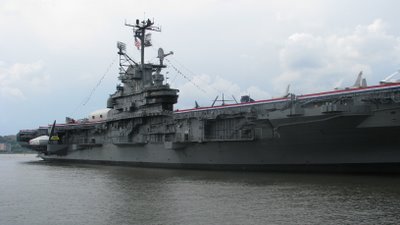 The museum is chock full of exhibits, and it's fun to romp around an aircraft carrier. I was 6 years old the last time I was on a carrier, and at the time the klaxon that accompanies the deck elevator scared the jeepers out of me and caused a screaming fit. Finally, I was able to face my fears, and conquer the elevator, 36 years later!
Admission also includes entrance to a submarine, and perhaps best of all, one of the most beautiful machines ever designed and built, the Concorde: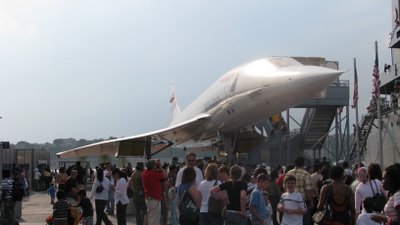 Alas, it was all over too soon ... until next Memorial Day !