The Great Mac Attack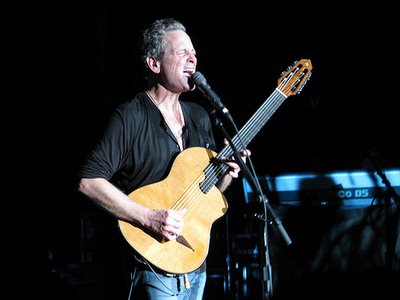 After a weekend off for a musical break, on Saturday October 11 it was off to Atlantic City to meet up with the Dynamic (and sleep deprived) duo to see Lindsey Buckingham at the Xanadu Theater at Trump Casino.
Having only known Buckingham's music through the pop prism of Fleetwood Mac, I was unfamiliar with his solo material. I've observed over the years that at any "arena rock" show with 20,000 fans, there really are probably 2,500 real "fans" there, and the others are the casual fans just familiar with what they hear on the radio. During the heyday of the giant touring machine known as Dire Straits, Mark Knopfler used to refer to those masses as "the tourists", i.e. those who are really attending just to check out what the fuss is all about. Buckingham was really upfront about the conflicting needs of those groups, and spoke at length about how playing these solo shows in a more intimate venue was a necessary part of the creative process ... and for us, a fun one, too! I went in a Tourist, and walked out a Fan.
The first part of the show was a bit tame, as casio shows can be as the front section where we were was clearly a comp area for "high rollers". The preshow announcement had clearly stated "no personal seat upgrades" but that is exactly what the REAL fans did, and by midshow the front of the stage was packed and the energy level of the band really went into the stratosphere.
Of course I took some
pictures
for you, dear reader, but if a picture is worth a thousand words, the following video is worth a million, and as good as this is, it was about a million times better in person ... make sure you play this in "high quality" mode - enjoy!
~G